Espress-umm's™ Mocha Caramels
MOCHA CARAMEL: Our Espress-Umm's Caramel celebrates and shares the Pacific Northwest's love for gourmet espresso coffee with this artisanal soft mocha inclusion caramel treat.
ARTISAN CARAMEL: The small batch coffee flavored caramel combines fresh cream, natural sugars, espresso beans, roasted almonds, 72% dark chocolate and a hint of Hawaiian Black Lava sea salt.
ALL NATURAL RECIPE: This homemade coffee caramel is made with kosher dairy products and old fashioned, natural ingredients, and the espresso flavored chocolate caramel is also gluten free.
GOURMET GIFTS: Share the coffee caramel love! This decadent espresso chocolate confectionery is supplied in a custom designed box containing 2 caramels - perfect for sharing!
HANDMADE IN THE USA: Northwest Expressions hand crafts gourmet chocolates, exquisite cookies, decadent confections and savory popcorn on Harstine Island in beautiful Washington State. 

Handmade Espresso Flavored Caramel 

There is a special kind of happy that comes to your taste buds when you try our gourmet Espress-Umm's Caramel. This ultimate inclusion caramel, Espress-Umm's uniquely takes the Pacific Northwest love for gourmet espresso coffee to new heights! 

Handmade in small batches the old fashioned way, we make our own gluten free caramel from kosher fresh cream, natural sugars and just the right amount of locally roasted espresso beans to add that authentic, irresistible coffee flavor. Then, we blend in roasted almonds and the homemade caramel is covered in 72% cacao dark chocolate with just a hint of Hawaiian Black Lava sea salt to tantalize your taste buds and top off the artisan Espress-Umm's experience.

Gourmet Gift Choice 

Espress-Umm's gourmet espresso flavored chocolate covered caramel comes to you in a custom designed box with two artisanal inclusion caramels in each one. Perfect for personal indulgence, why not give the decadent espresso caramel confectionery as gifts for friends and family, or even better with 2 in each box, share a perfect coffee caramel moment together!

 Northwest Expressions 

Crafting gourmet expressions influenced by the taste, feel and rich history of the Pacific Northwest, Northwest Expressions creates small batch artisan chocolates, cookies and confections made by hand and with love on Harstine Island in Washington State, USA. Our roots run deep. Rick's Grandma Carrie's original 1950's handwritten recipe for Soft Peanut Butter Brittle still hangs in our kitchen. Though a bit tattered, it is framed now to preserve the recipe we still use to this very day.




  



View full details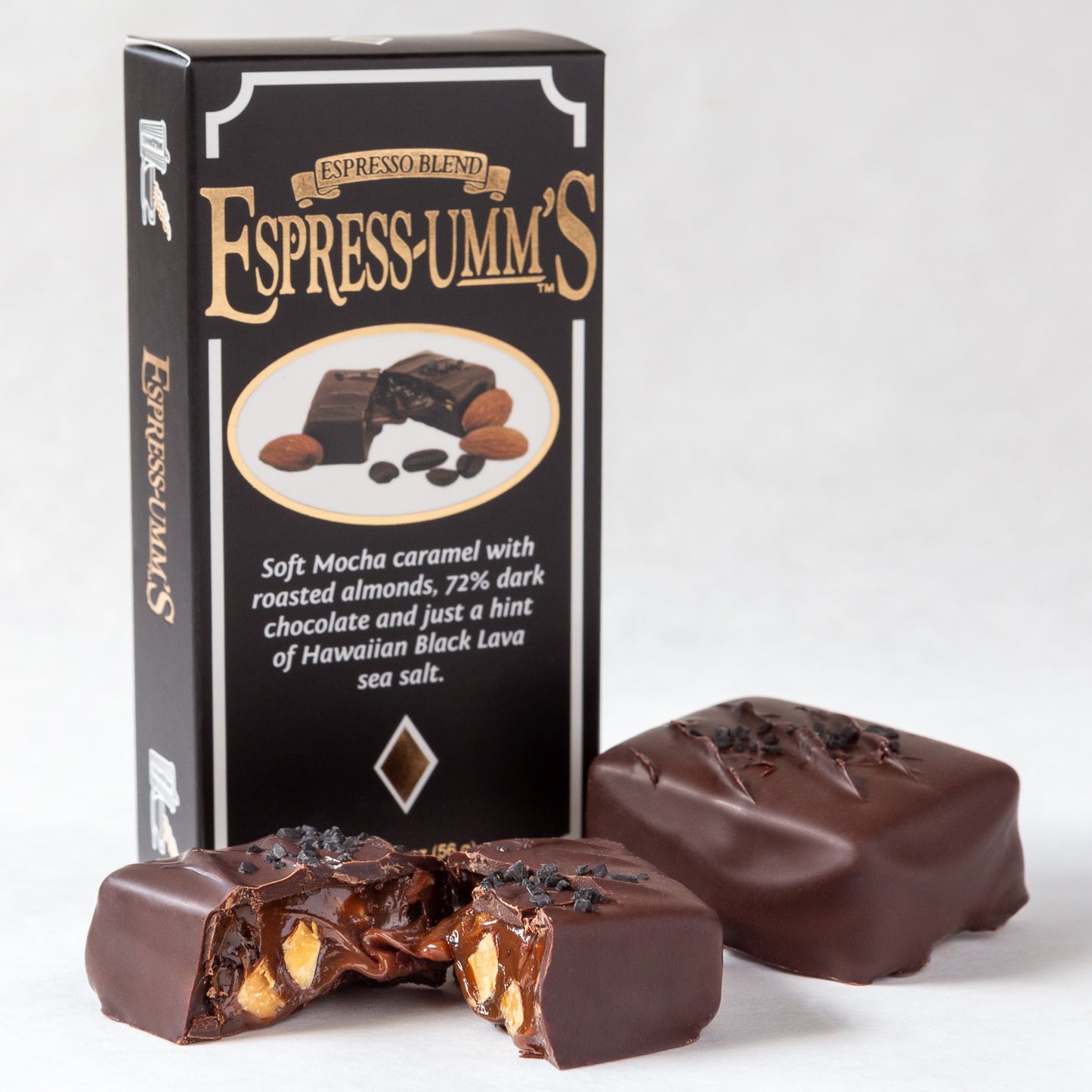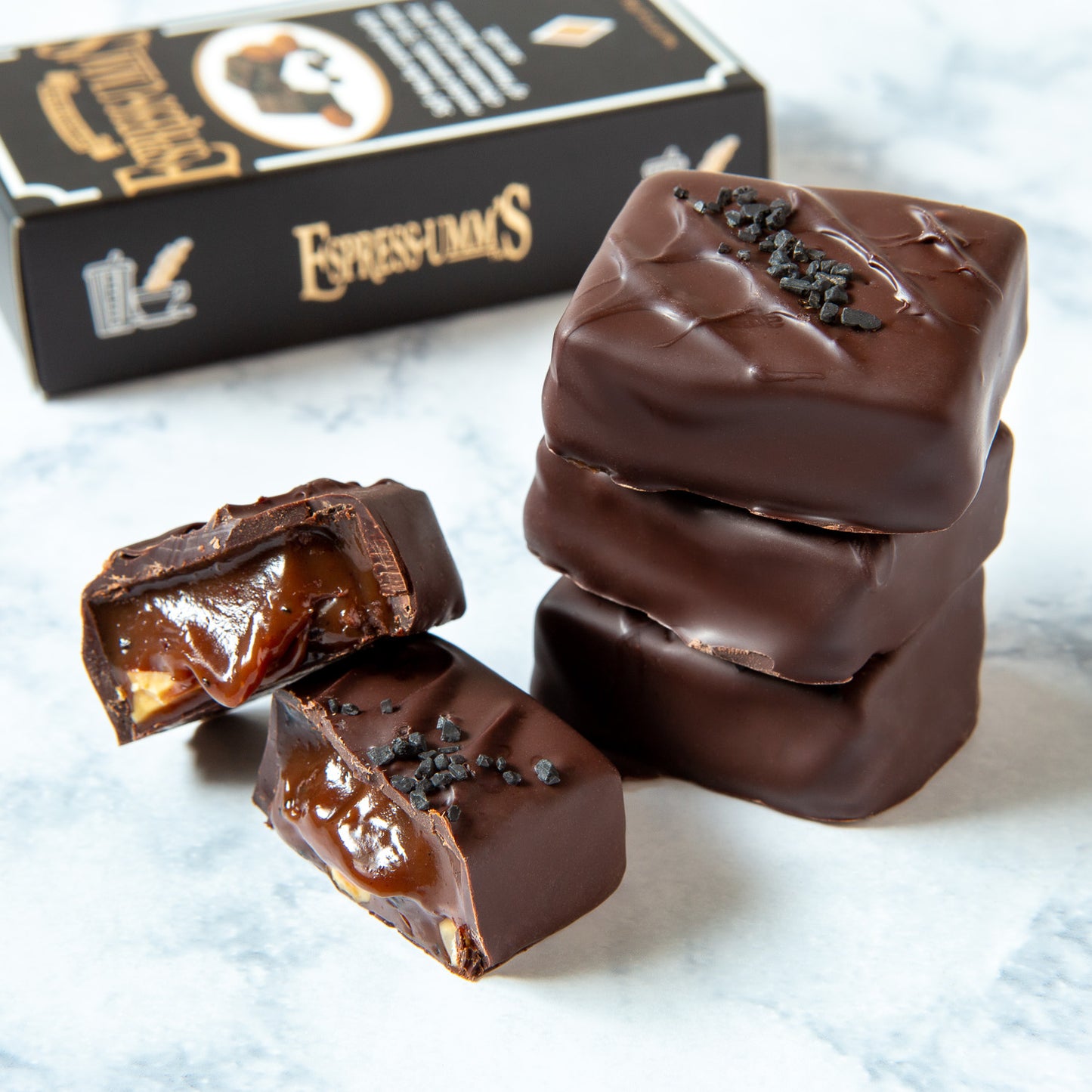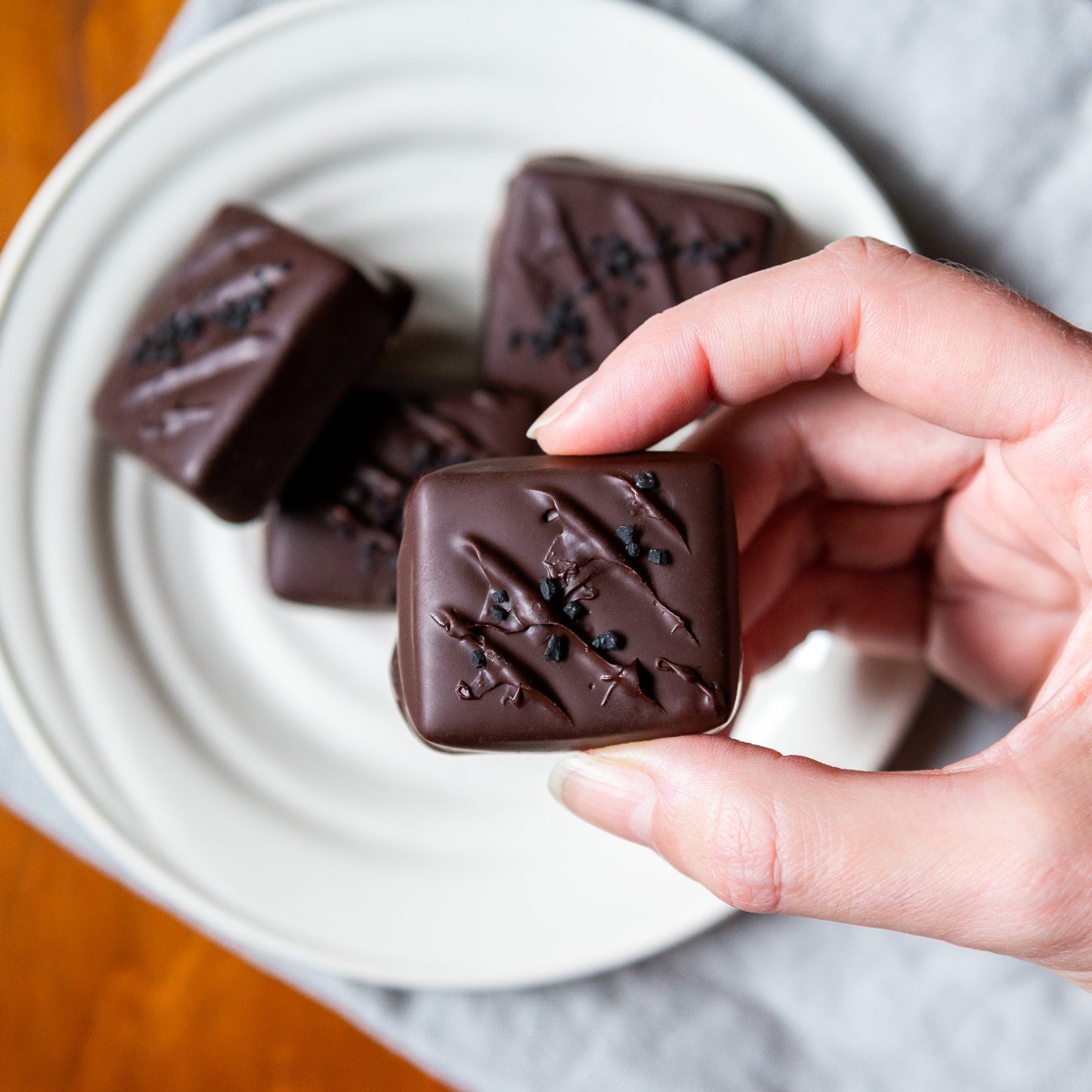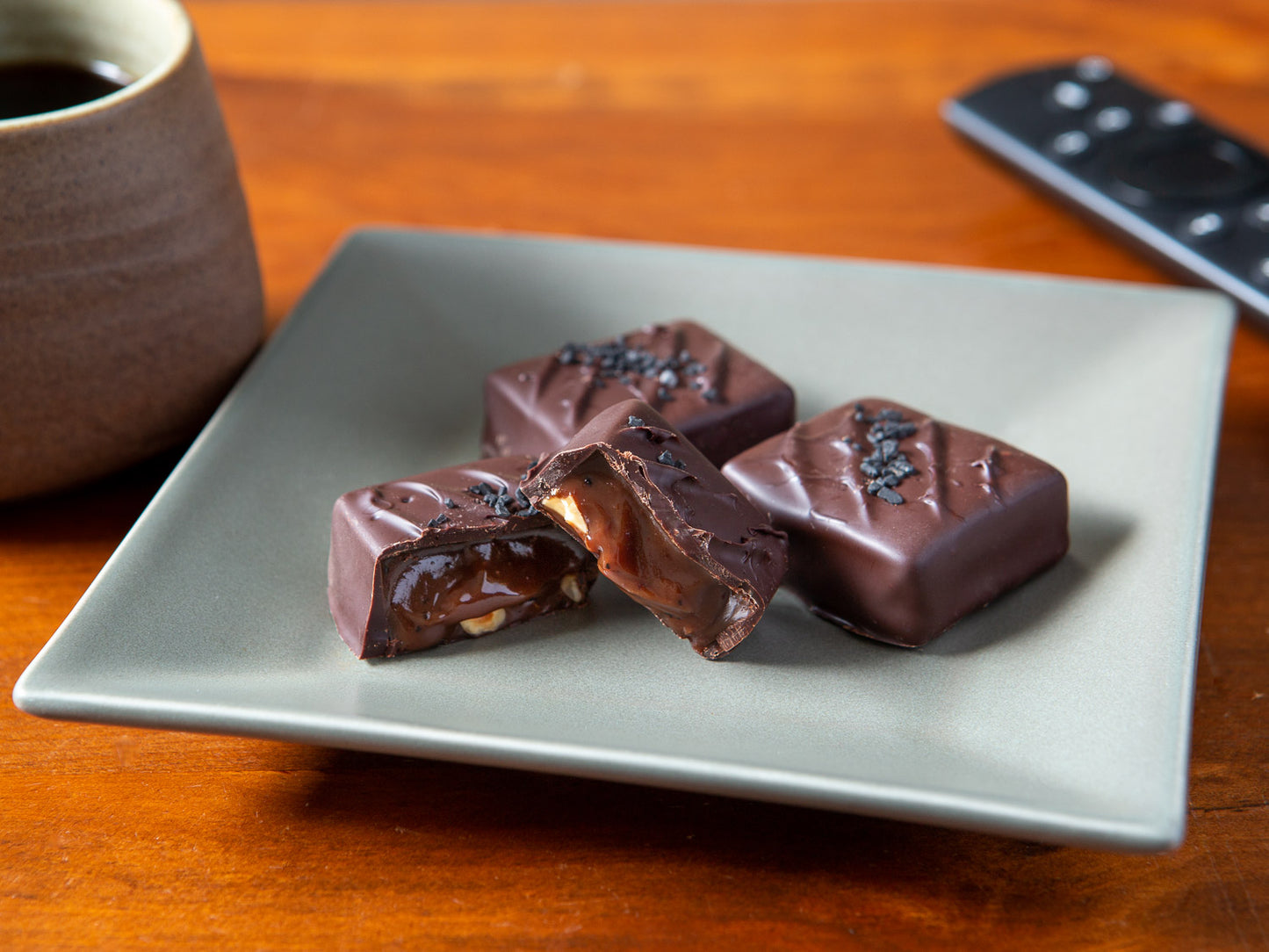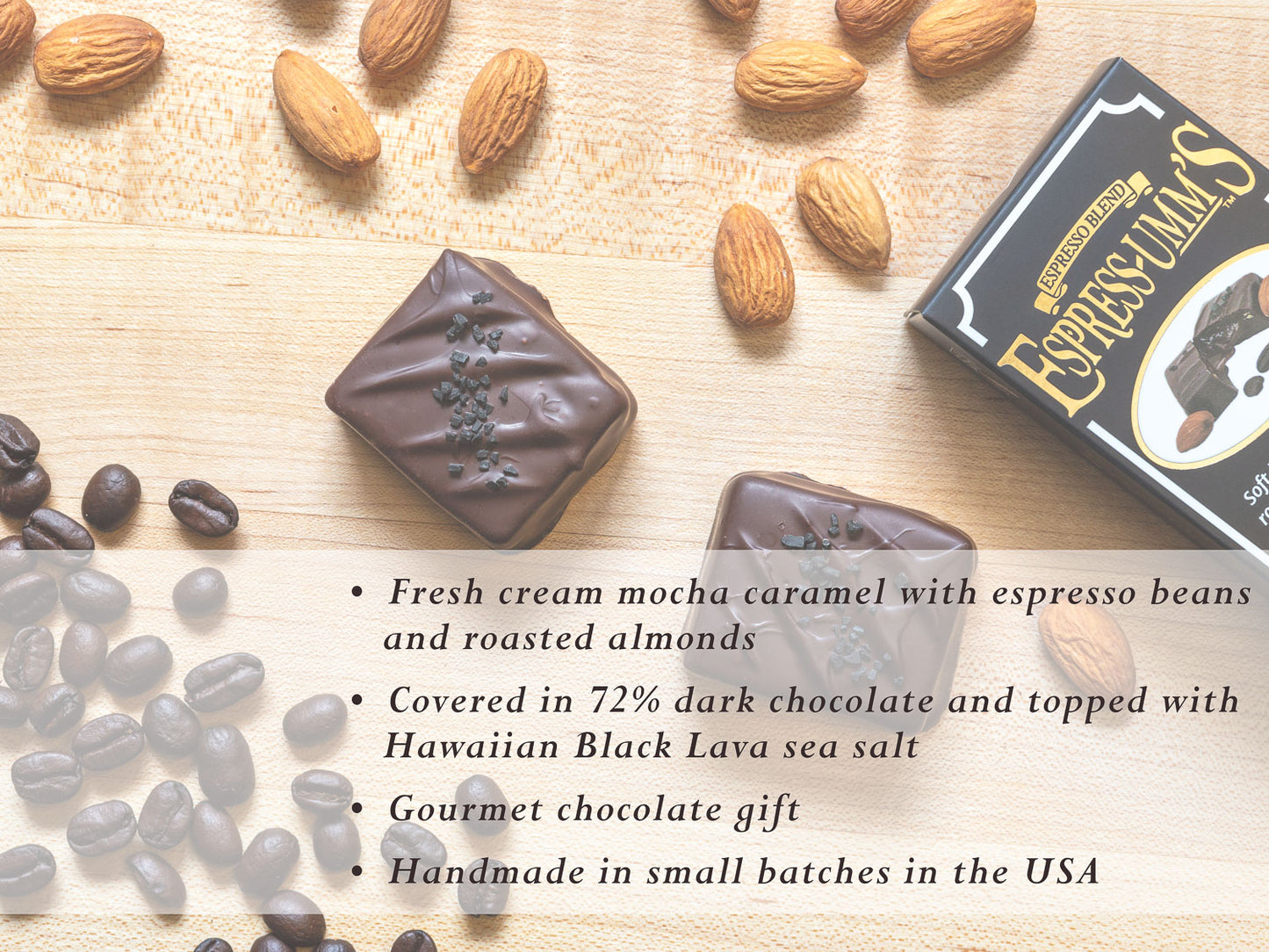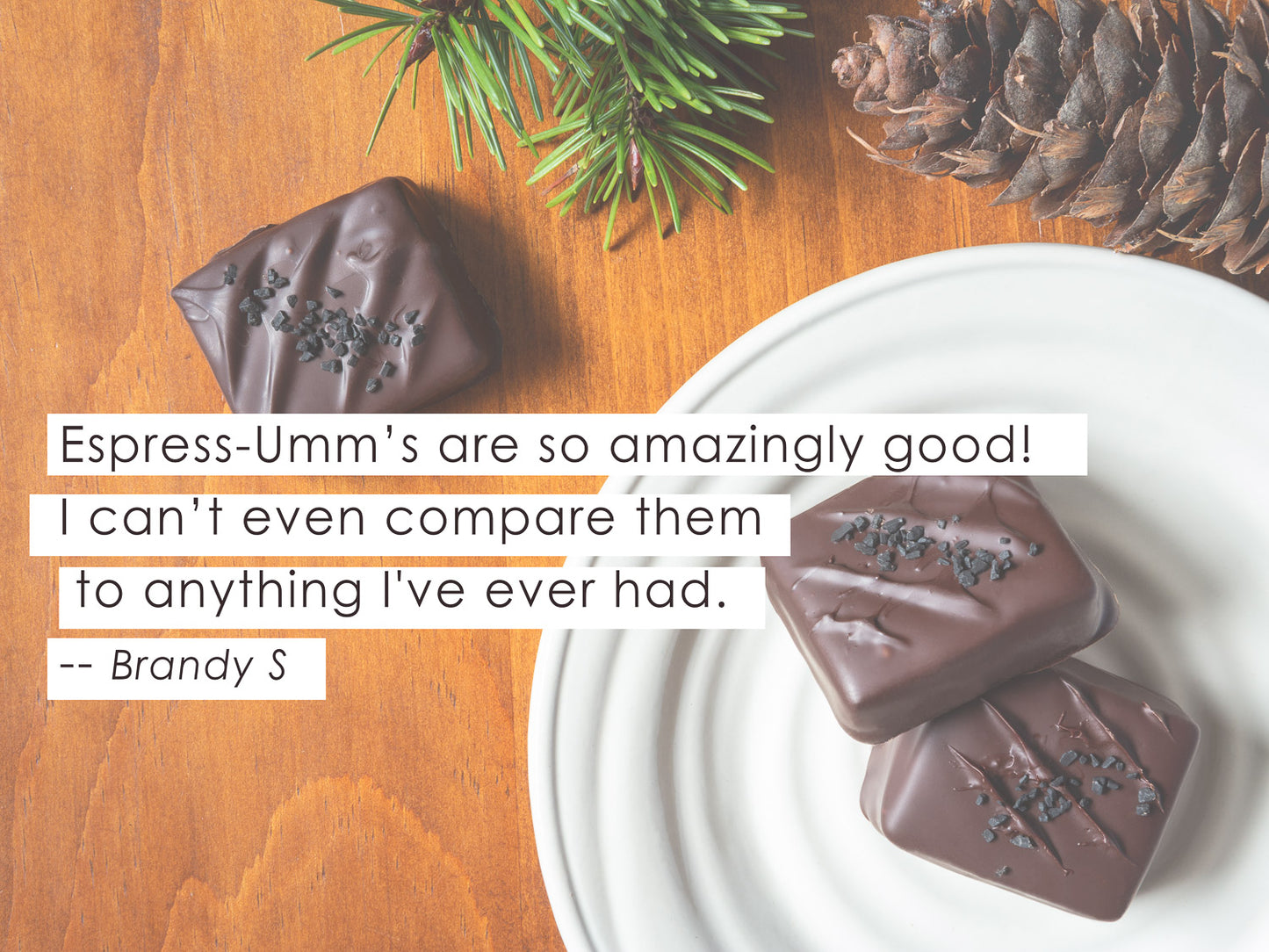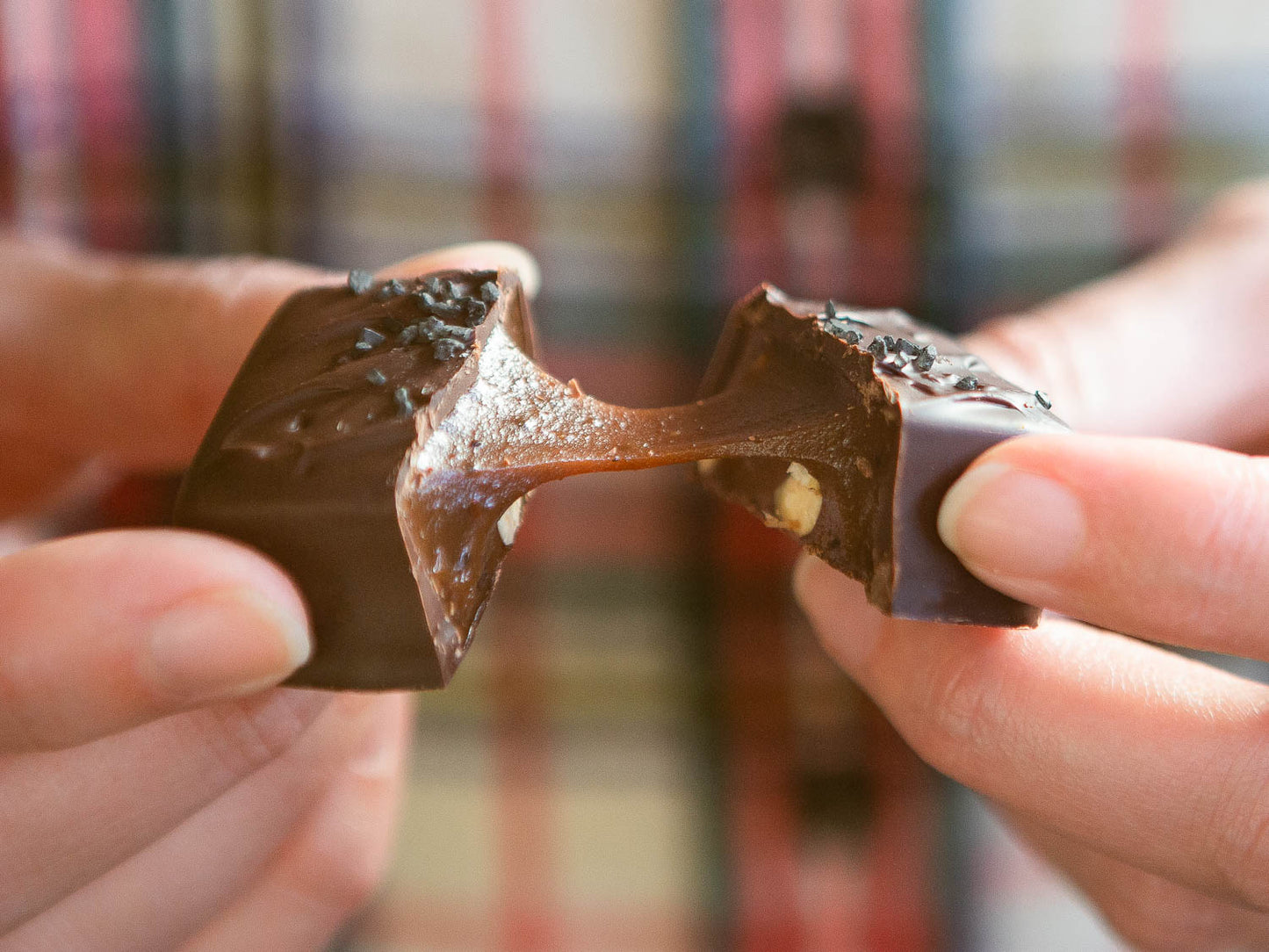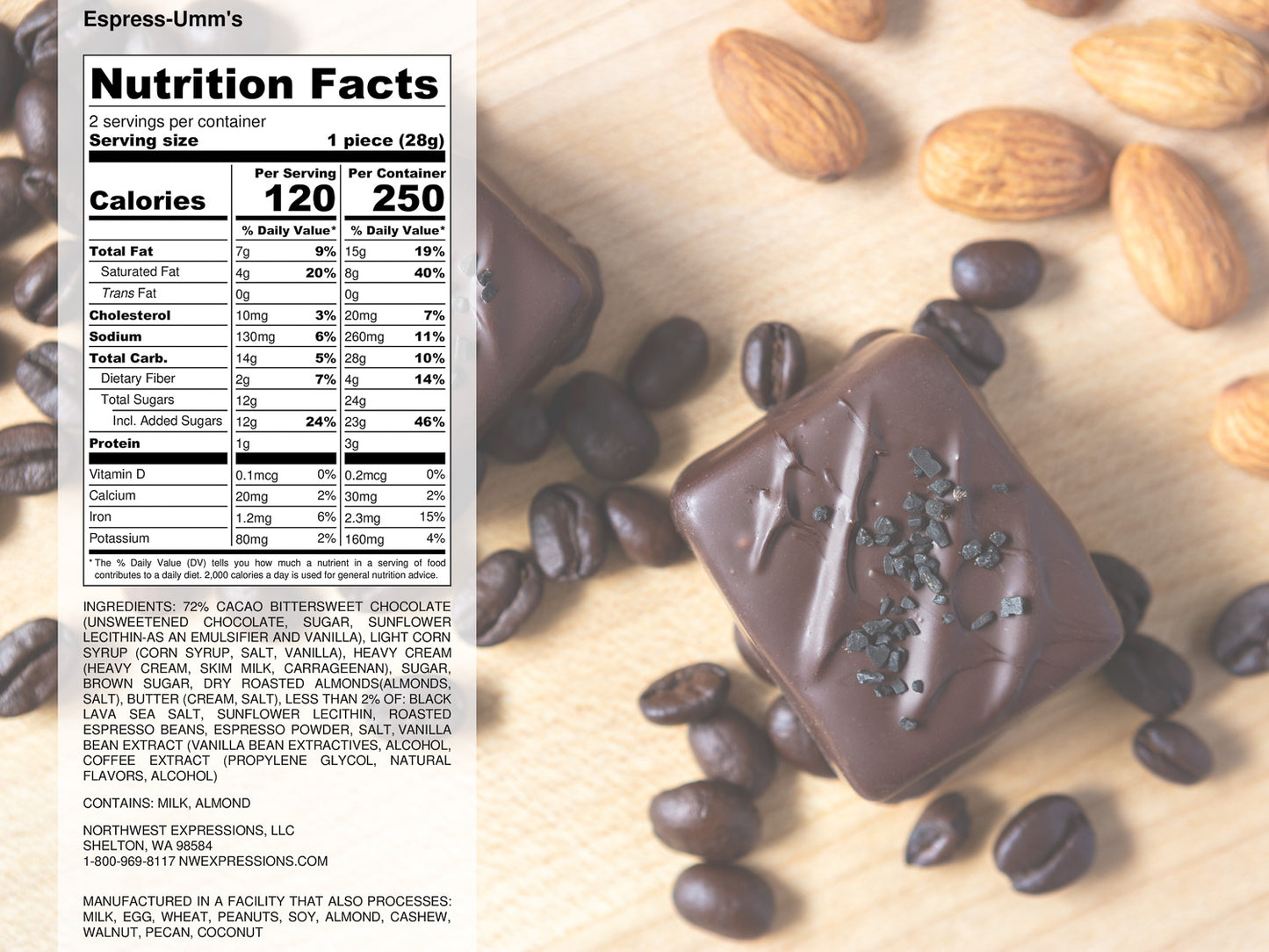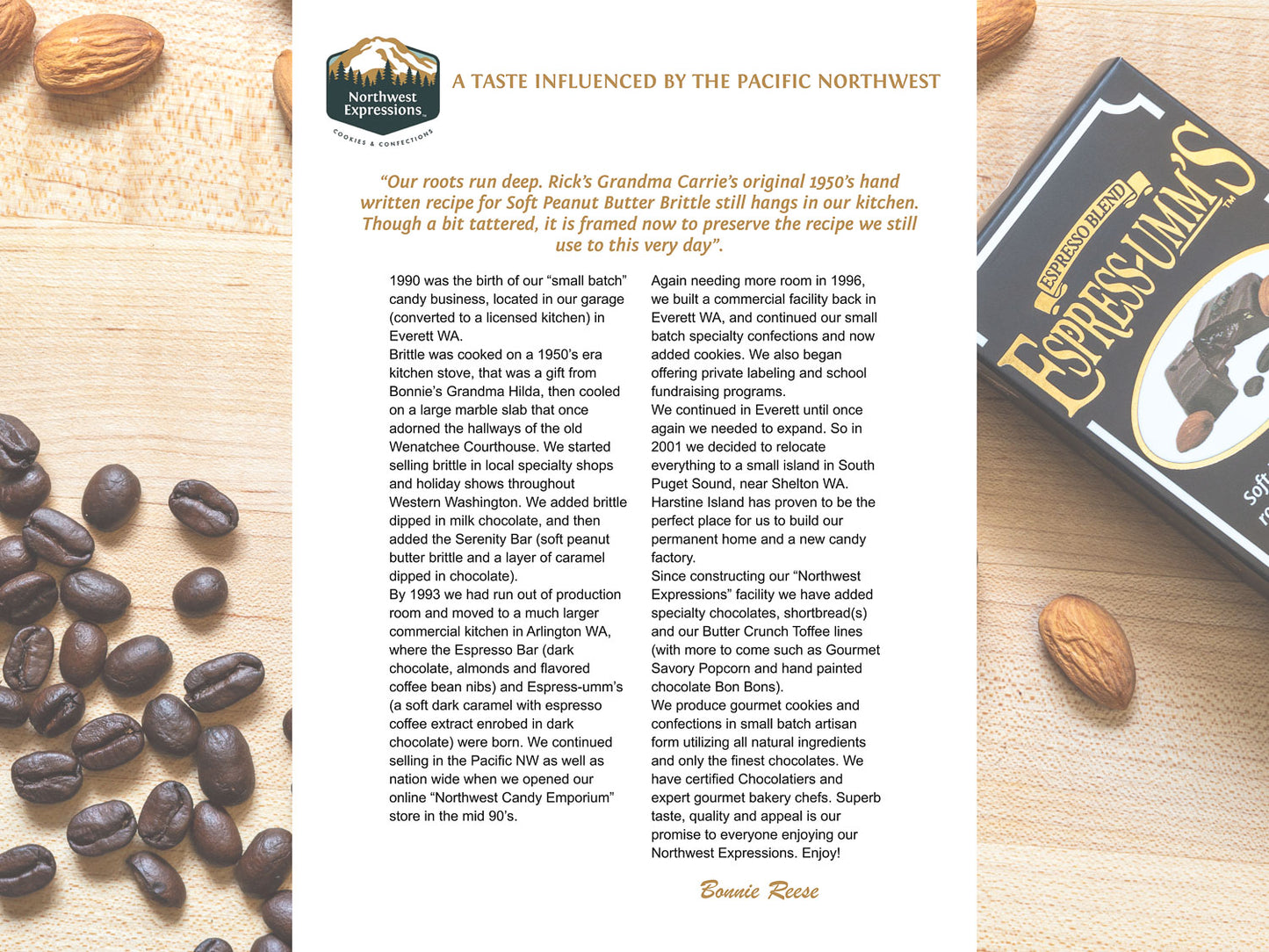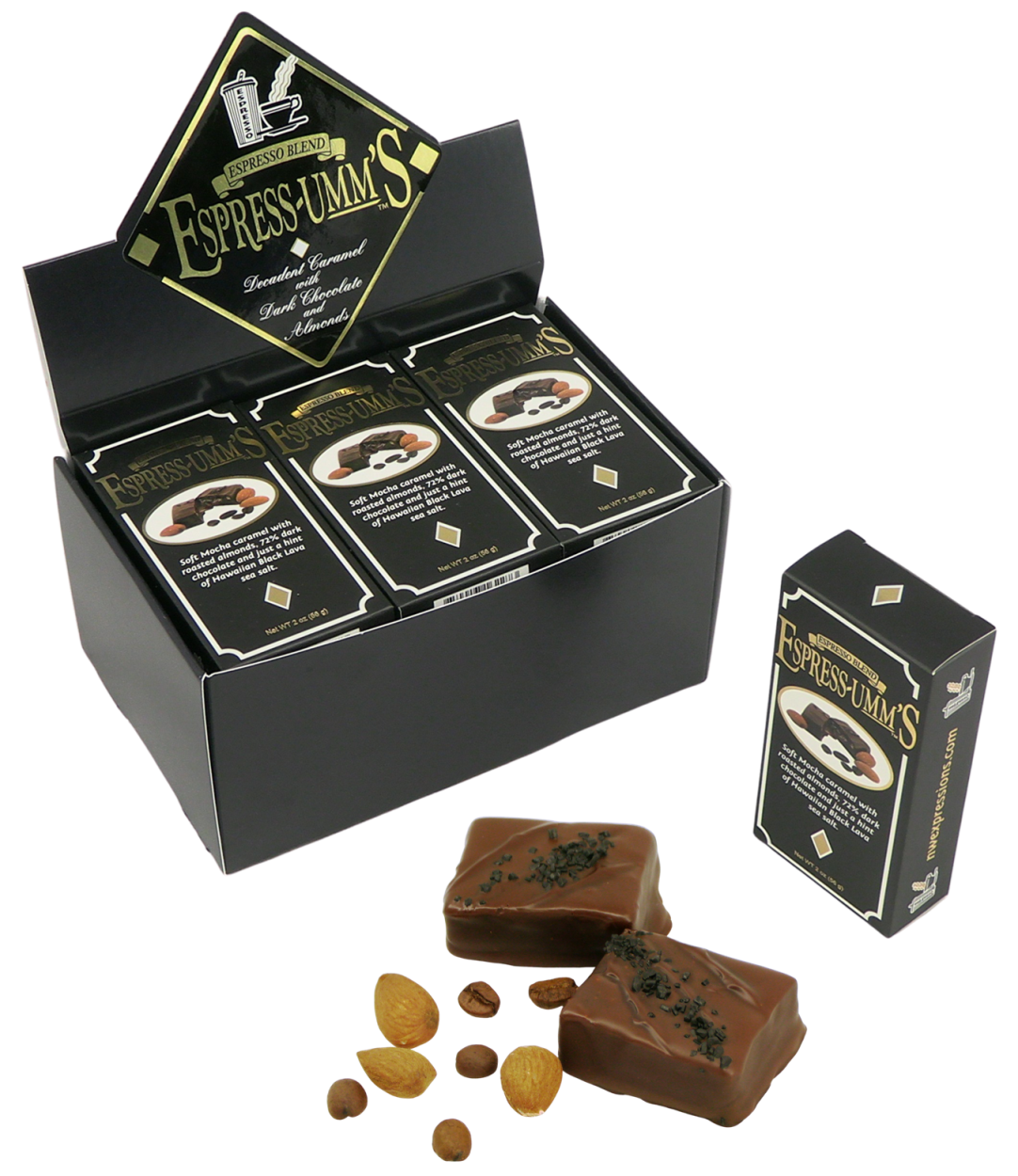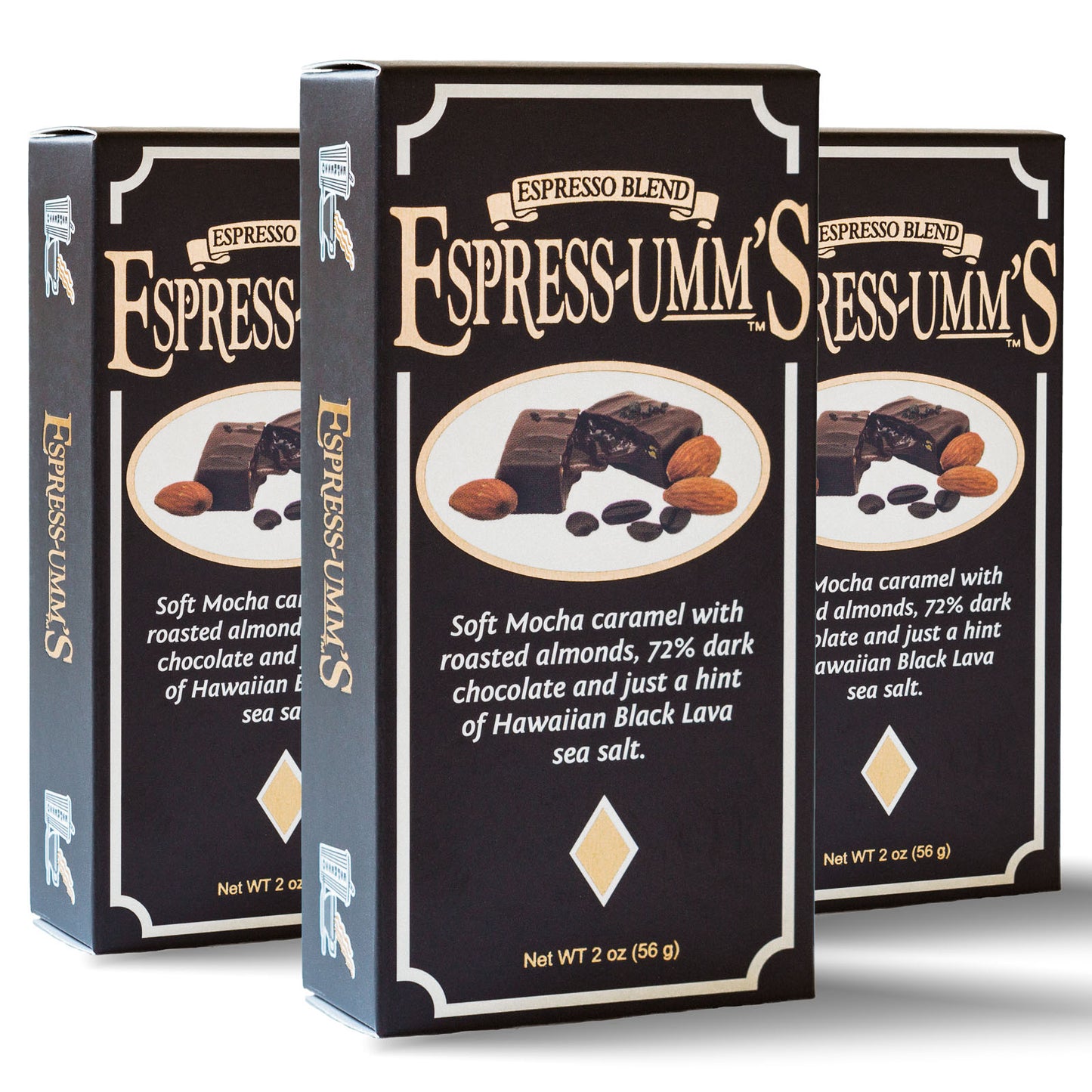 Espress-umm's™ Mocha Caramels
Review from family-FANTASTIC!!!
I gave these caramels to my son-in-law and grandson to review and the smiles and thumbs up said it all. After all they were caramels!!
Awesome flavor and texture!
Really well balanced- I can't taste all of the ingredients and it's not too sweet.