Butter Crunch Almond Toffee in 8 oz Gift Box
CHOCOLATE NUT TOFFEE: Our Butter Crunch Almond Toffee is handmade with fresh butter, pure sugars and roasted almonds, all slowly heated over an old fashioned copper pot.

ARTISAN TREATS: Covered in dark chocolate and dusted with almond bits, this small batch home made toffee making process ensures distinctive flavors and 'melt in your mouth crunch'.
ALL NATURAL RECIPE: The homemade chocolate butter toffee candy is made with kosher dairy products and natural ingredients, and the artisan toffee is also gluten free.
GOURMET GIFTS: Share the Butter Crunch love – this decadent chocolate and almond toffee is supplied in an elegant custom gift box with triple-laminated pouches and protective inner tray to seal in the freshness.
HANDMADE IN THE USA: Northwest Expressions hand crafts gourmet chocolates, exquisite cookies, decadent confections and savory popcorn on Harstine Island in beautiful Washington State.

 

Handmade Butter Crunch Almond Toffee 

Northwest Expressions Butter Crunch Almond Toffee all starts with a 20" x 16" copper pot over an open flame, and an old fashioned recipe using only the highest quality, all natural ingredients. The fresh butter, pure sugars and roasted almonds are all slowly heated to the perfect temperature to create a gourmet toffee that is then deliciously covered with 72% dark chocolate on both sides and finished with a generous dusting of more almond bits! Our old fashioned toffee is handmade with kosher dairy products, and gluten free, all natural ingredients.

 Hand crafting our confectionery using a small batch process ensures that old fashioned, homemade 'melt in your mouth crunch' and distinctive artisanal flavor of a truly handmade toffee.

 Gourmet Gift Choice

 Why not deliver the gourmet taste of homemade toffee to your friends and family? Our Butter Crunch Almond Toffee is supplied in an elegant custom gift box adorned with an understated pine cone theme, and crafted with hot-stamped foil and embossing. The interior of the artisanal toffee box includes triple-laminated pouches that are guaranteed to seal in the freshness, so our handmade toffee reaches you or your loved ones in perfect condition.

 Northwest Expressions

Crafting gourmet expressions influenced by the taste, feel and rich history of the Pacific Northwest, Northwest Expressions creates small batch artisan chocolates, cookies and confections made by hand and with love on Harstine Island in Washington State, USA. Our roots run deep. Rick's Grandma Carrie's original 1950's handwritten recipe for Soft Peanut Butter Brittle still hangs in our kitchen. Though a bit tattered, it is framed now to preserve the recipe we still use to this very day.
View full details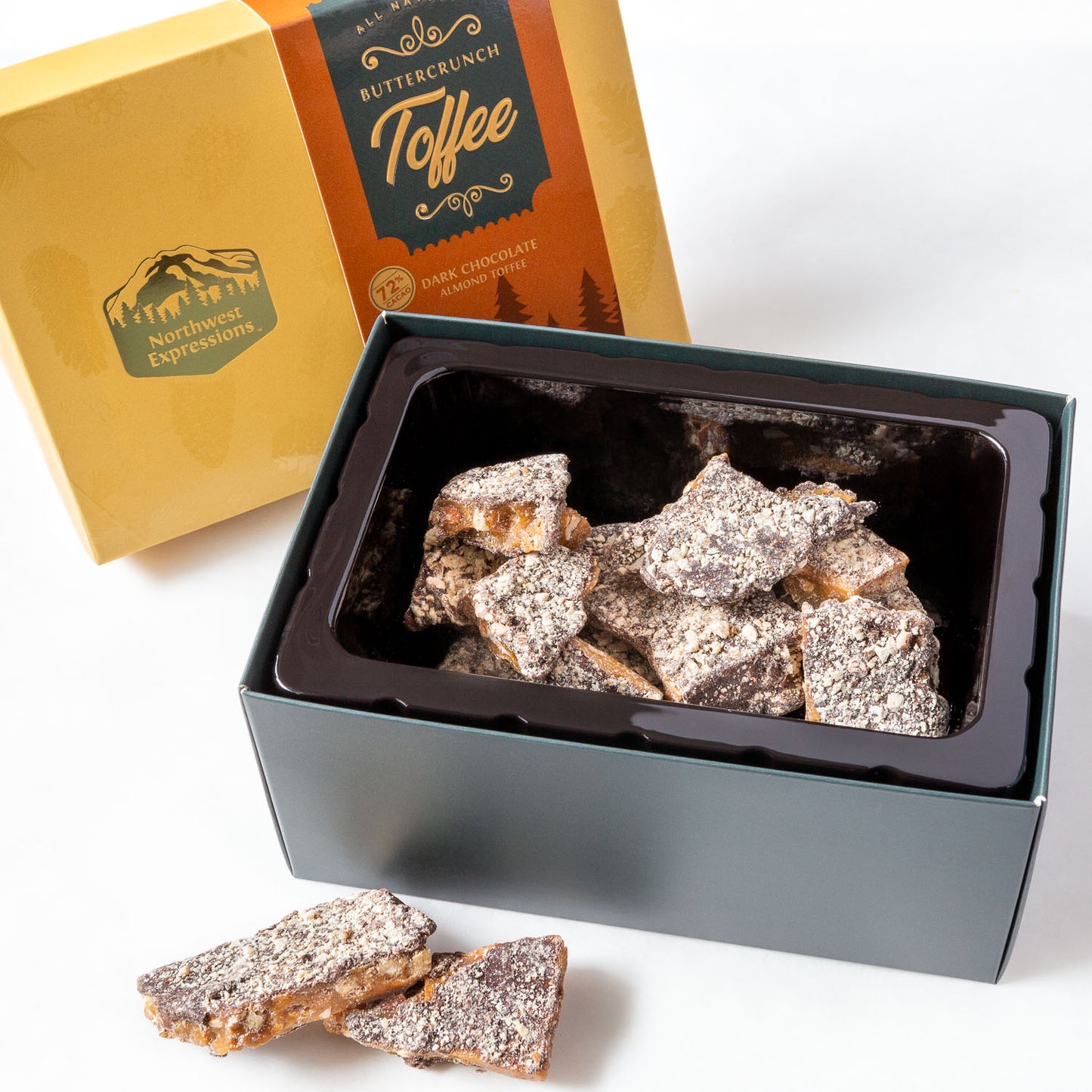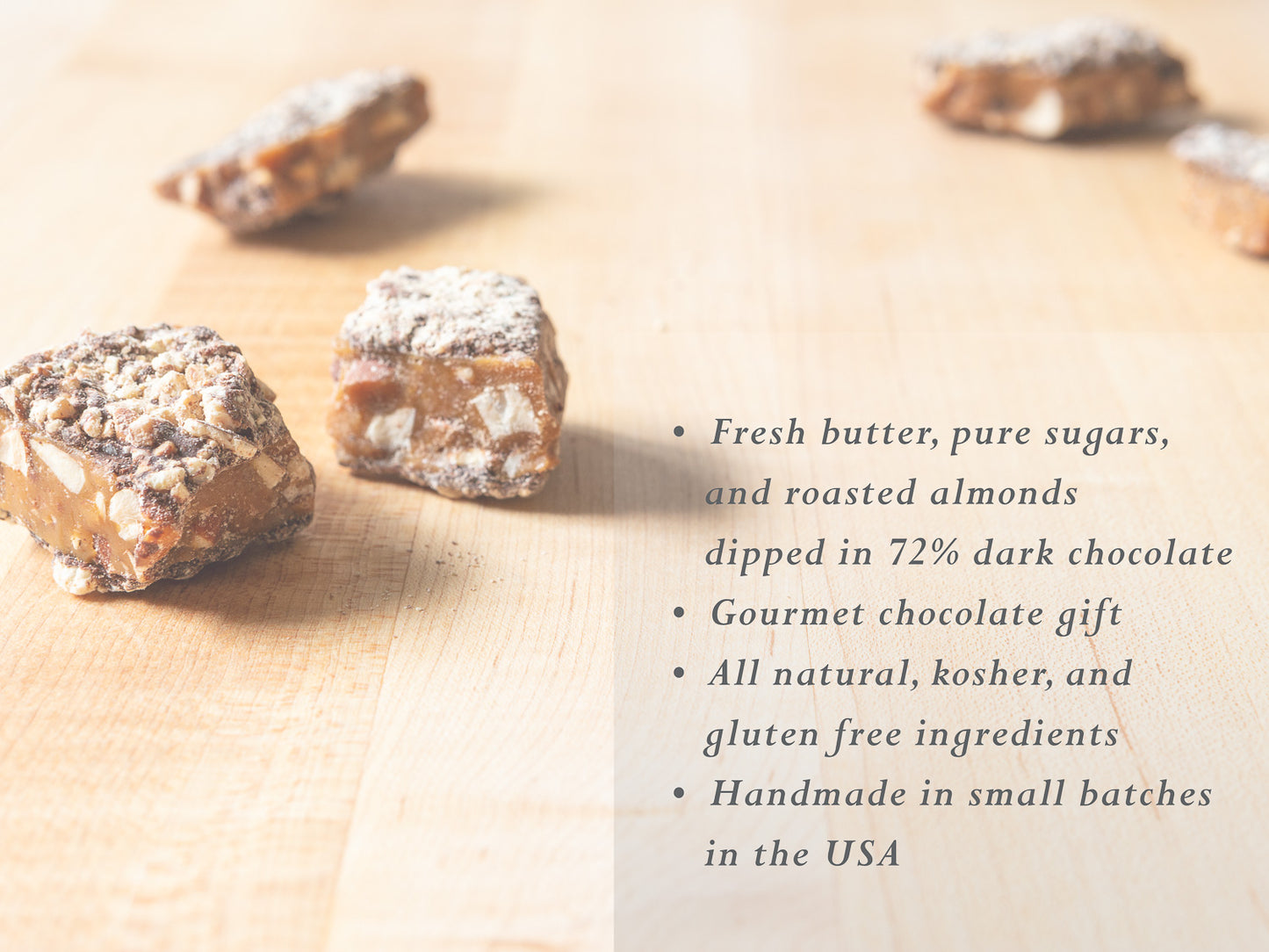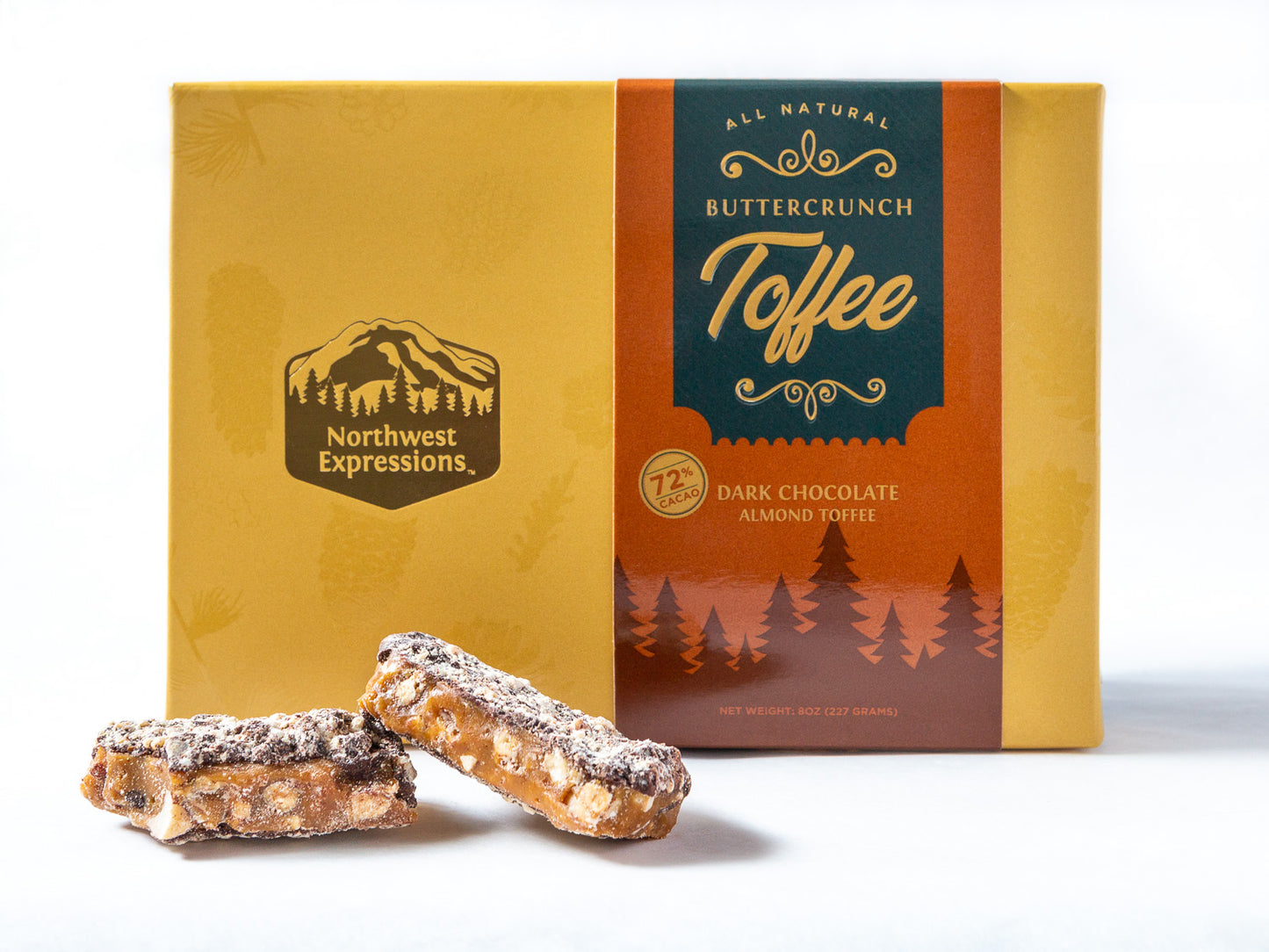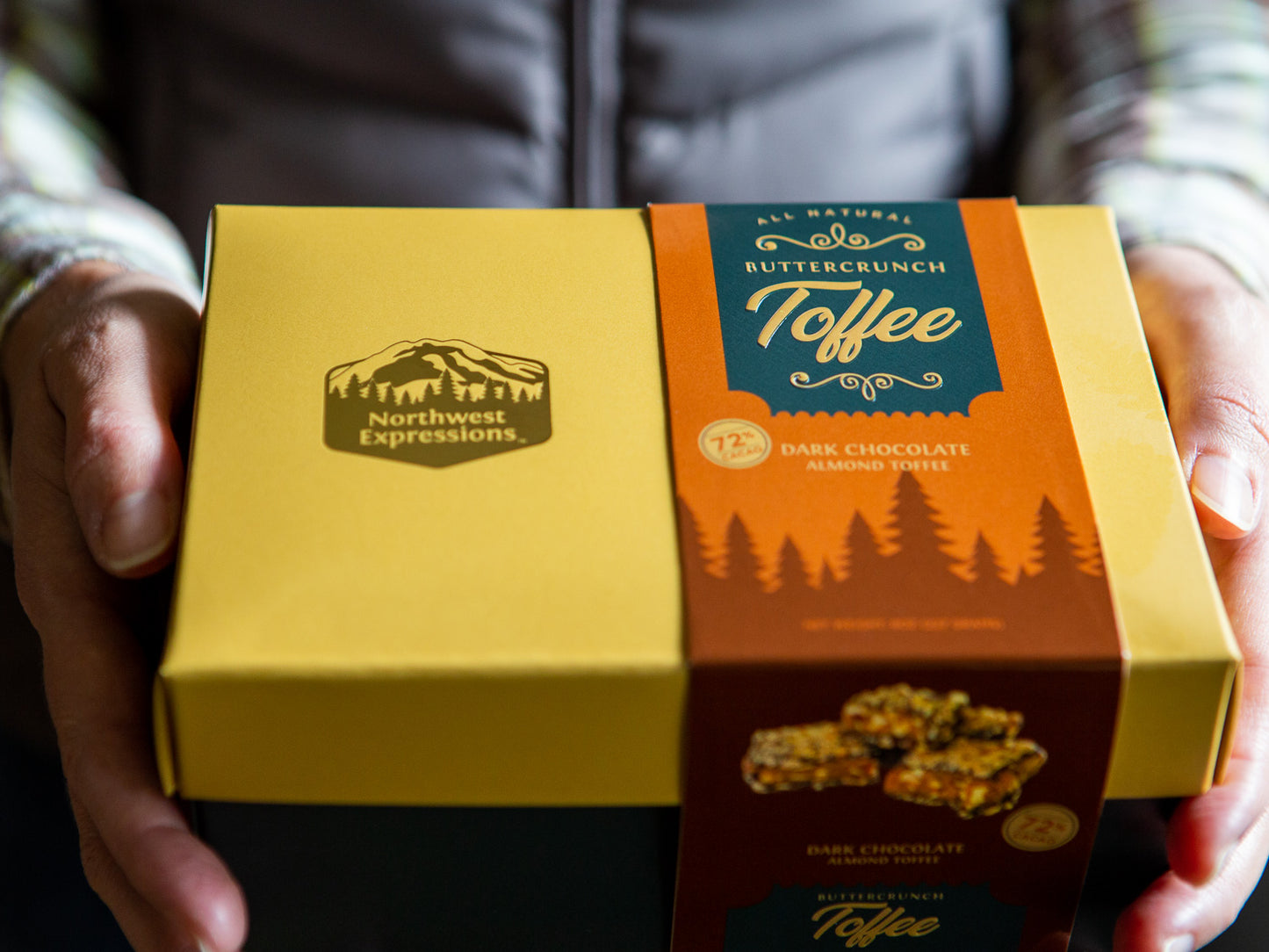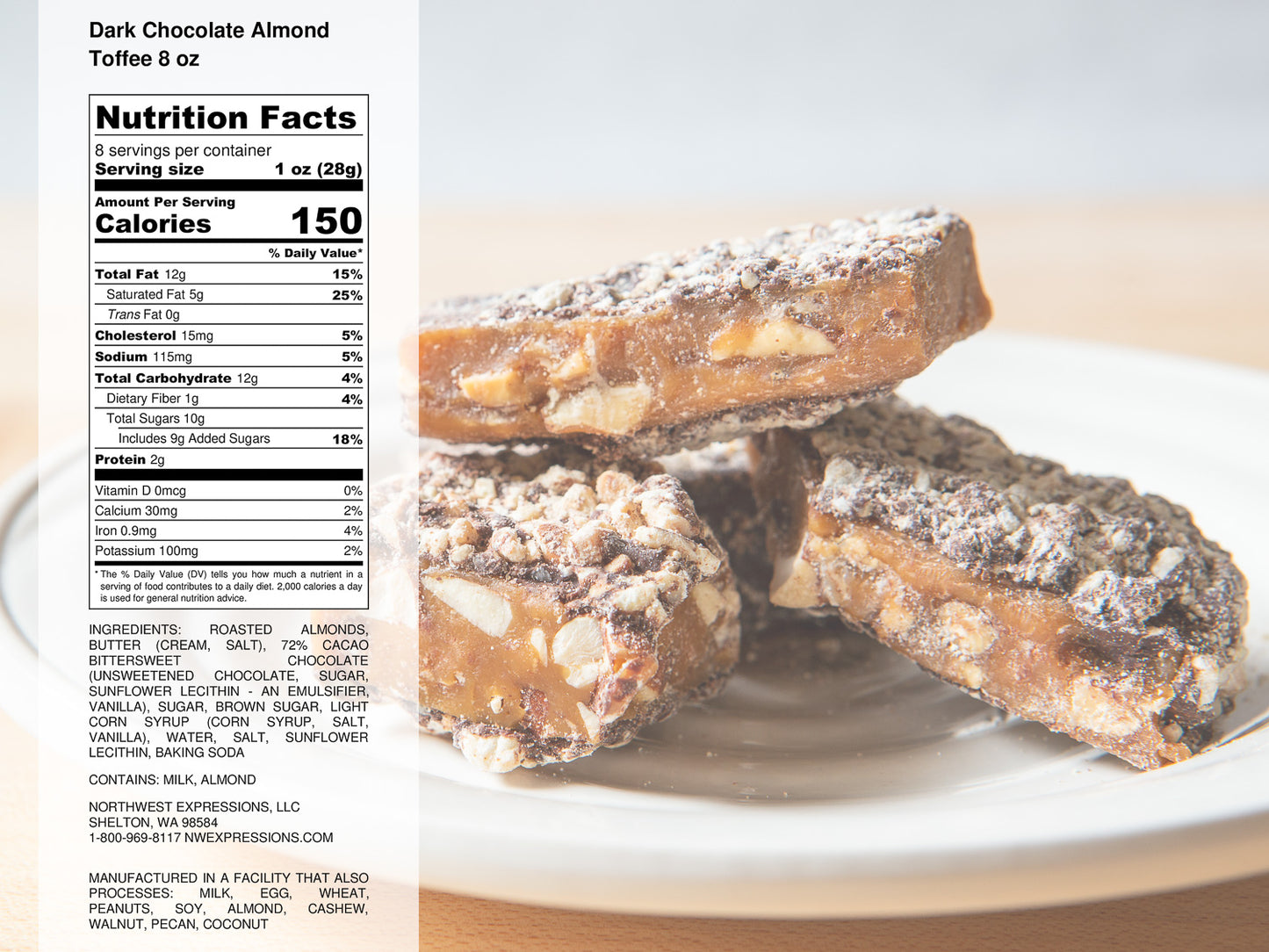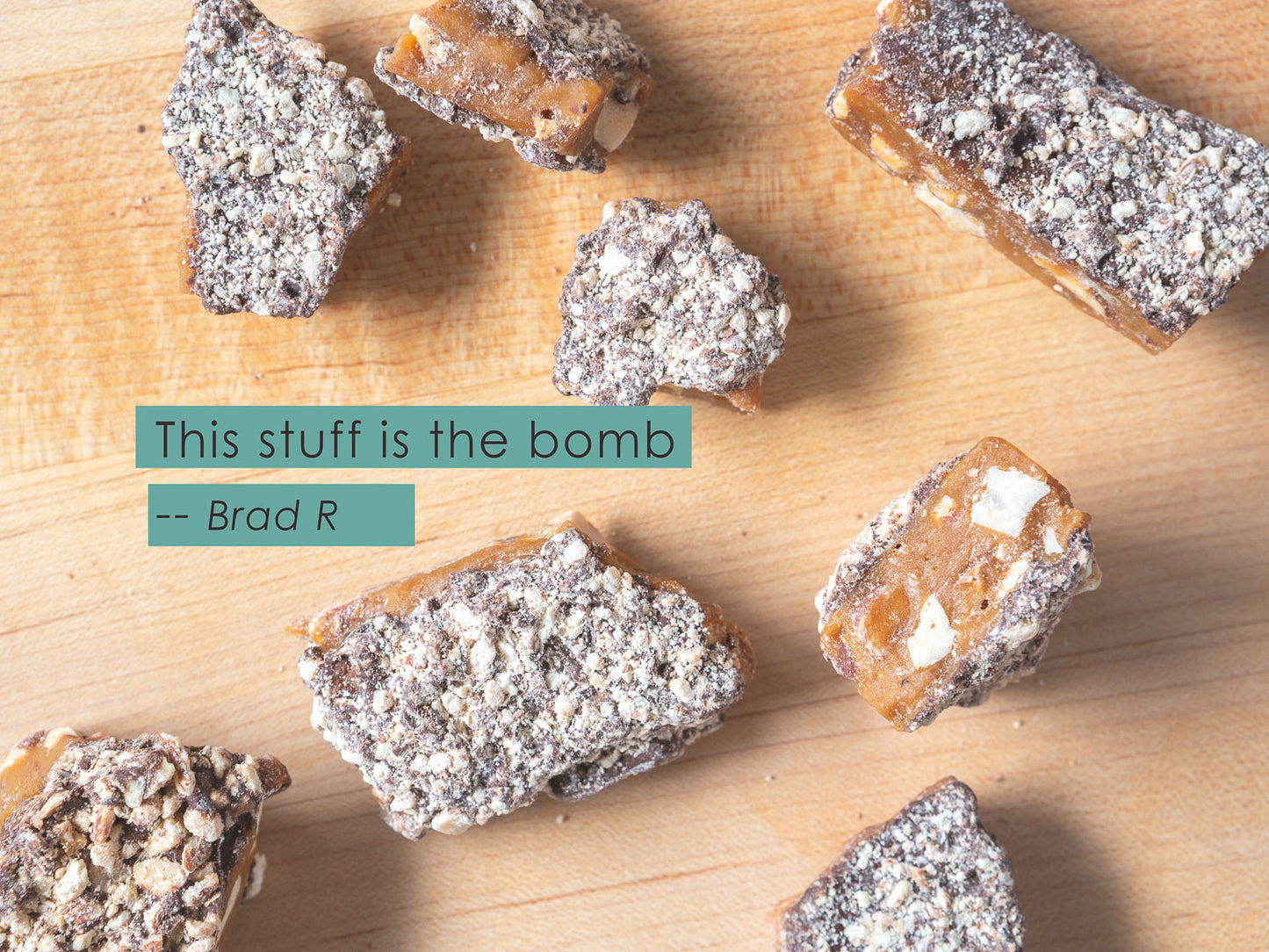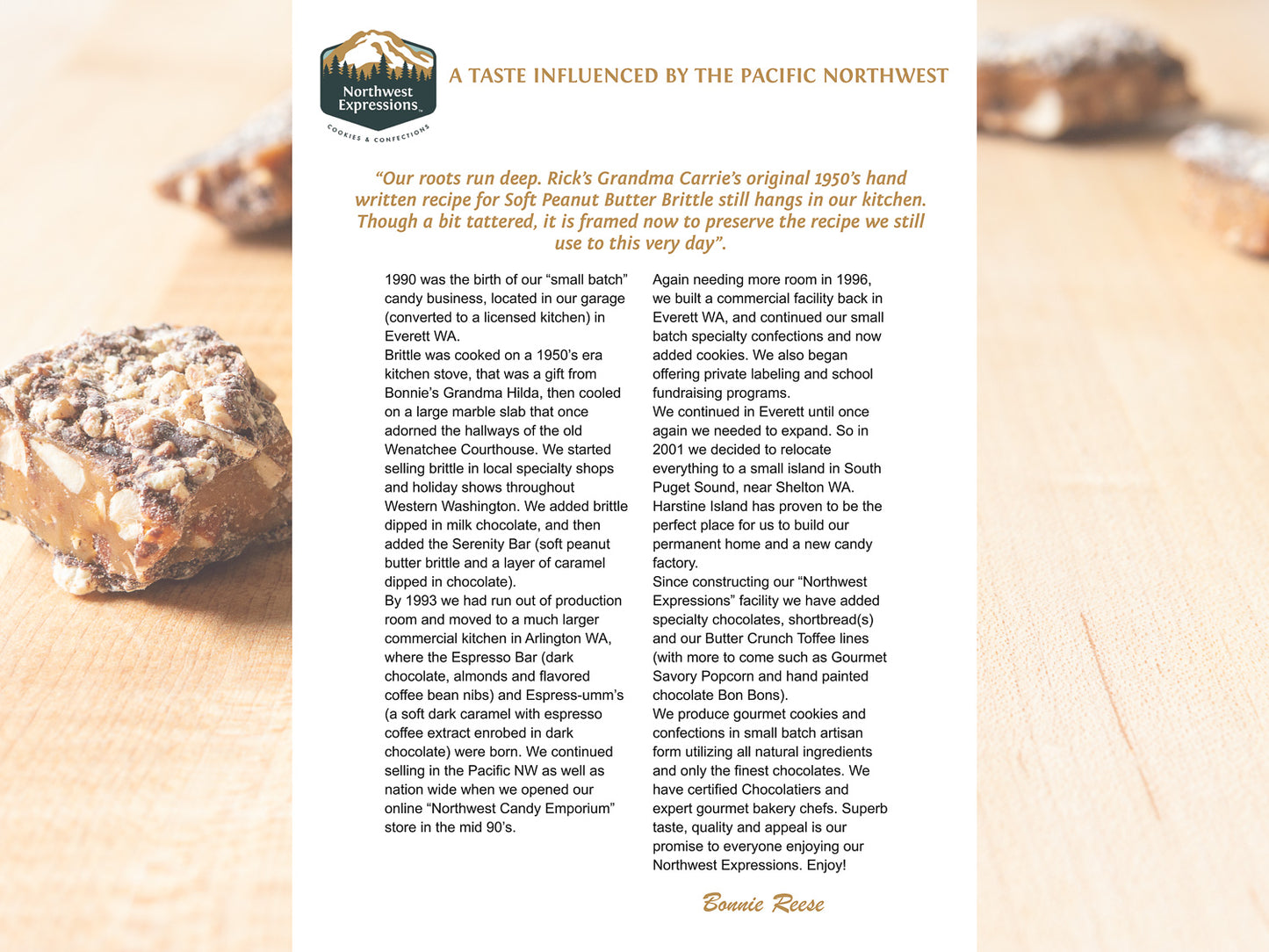 Butter Crunch Almond Toffee in 8 oz Gift Box